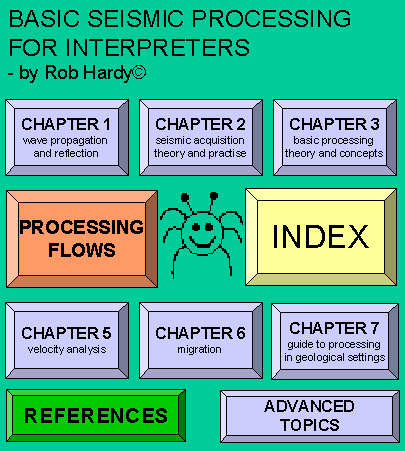 This material was prepared while the author worked at Amerada Hess London. Amerada Hess has authorised release of the material dated September 2001 for non-profit making purposes only and the opinions reflected within are those of the author not necessarily those of the Hess Corporation.
This course is intended to be a practical introduction to seismic reflection data processing. The aim is to introduce concepts as simply as possible, without recourse to overly complicated mathematical derivations. The course level is considered to be as basic as possible, the standard being often below that required for B.Sc. level.
Chapters 1,2 & 3 contain the basic theory, definitions and background required to understand the rest of the course. A novice should read these first in ordera There are probably mistakes and the material is quite dated (as of 2021).
Use Chapter 4 to head for practical details on any processing stage.
Use the comprehensive INDEX to jump to any particular topic (theory or practical).
Visit our new website to enrol on updated courses.
Downloads of this course and Simon Stewart's "Structural Styles" previously available from this website can now be freely obtained from our training store
Please Email any questions or comments to info